I am joining bloggy friend,
Lourie
, from the
CA Girl
blog, for her monthly meme. Head over there if you want to play along.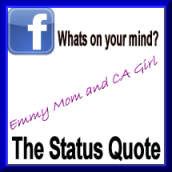 You collect the best and funniest FB status updates and Twitter Tweets!
**No names are used (to protect the innocent...or guilty)!


HERE ARE THE ONES I'VE COLLECTED:



*Children and adults with special needs only want what we all want - to be accepted. It is Special Education week, and this is in honor of all children and adults who learn a little differently....

*I just used the term "SEX BOAT" in a Tweet. I'd like to say that I'm not proud of that, but...yeah, I'm TOTES proud of that. Sex Boat. Hee!

*If you see a coyote on your front porch, it's probably not smart to go outside and say, "Shoo!"

*Saw a list of 10 Orange Creatures that would write better book than Snookie. 1. Tony the Tiger. 3. Oompa Loompas 5. Garfield

*Some kids came to me every yr. as jerks, full of rage, bullies, turds, out of control, heartless, racist, homophobic. And I knew (and believed) it was my duty–as an "adult of influence" in their lives–I had to teach them ALL to be kind.