I've collected some funny and awesome FB status updates and Twitter Tweets!

**No names are used (to protect the innocent...or guilty)!

I'm playing along with Lourie's monthly meme.

Head over there if you want to join: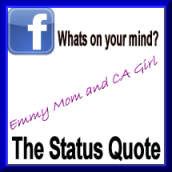 HERE'S WHAT I'VE COLLECTED

:

*Oh Charlie, train wrecks are travelling in slo-mo just to watch YOU!

*The day Snooki appears on the cover of Rolling Stone is the day civilization is officially over. Sadly, that day has arrived.


*At SeaWorld, plotting to kidnap a bat ray and keep it in my bathtub. #bat-rays-are-the-new-chihuahuas


*It's always fun to see a recall for something you ate for breakfast that day. #ewww


*I used to buy stale boxes of fortune cookies from the dollar store, & whenever I was unsure about something, id crack a cookie open.


*Slimmer, faster iPad being unveiled as we speak... and here I am stuck with an old-fashioned, fat iPad that is 4 months old!


*Your last tweet made me feel old. Your intern was born in 1991? People born in the 90's now hold semi-real jobs? #Damn


*Charlie Sheen's "WINNING" quotes would be funnier if mental health, addiction and kids weren't involved!
SEE YOU ON THURSDAY! :D