I'm playing along with
Lourie's
monthly meme.
Head over there if you want to join: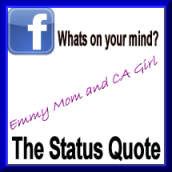 You collect the best and funniest FB status updates and Twitter Tweets!

**No names are used (to protect the innocent...or guilty)!
HERE ARE THE ONES I'VE COLLECTED:


**I don't get the dude in #sisterwives. Like... frankly, he doesn't seem like that much of a catch. FOUR wives? What are his hidden assets?


**The new Britney Spears song sounds like a parody. "If I say you have a nice body, will you hold it against me?" Really, Brit-Brit? REALLY?


**I'm the dude, playin a dude, disguised as another dude.

**Having a stereotypical writer's day: dark room, drinking out of multiple coffee mugs, and the snuggie.


**My 6 yo made a "book" with his own pics and words. He handed it to me & said, "Mom, can you publish this today?" If only it were that easy! :D


**Me and 4 boys in my math group at school. One is a mysterious new boy. Wonder if he is a wolf, vampire, faerie, mer-man, or 1/2 Greek god.


**If you could visit heaven for a single day and come back, would you?
See you on Thursday!